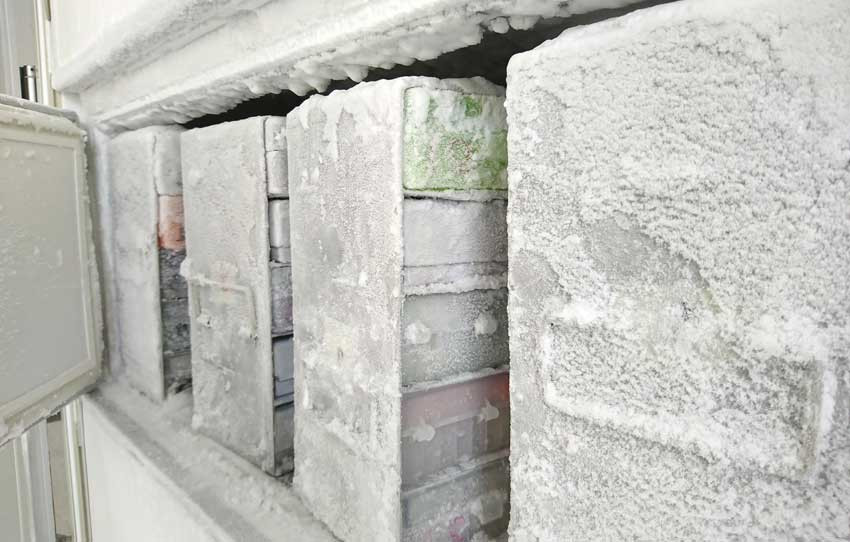 Ultra-Low Temperature (ULT) freezers store content in the temperature range from -70 °C to -86 °C.
That is the reason why ULT freezers are commonly referred as to a "minus 80 freezer" or a "negative 80 freezer". ULT freezers can be either in upright or chest freezer format. Due to a smaller footprint, the upright freezer is usually the preferred solution. The ULT upright freezers are a great solution for laboratories and hospitals due to scalability and market availability. On the other hand, the use of hundreds or even thousands of these freezers for storage hubs cannot be considered appropriate. There are more practical and energy-efficient solutions available for mass storage of temperature-sensitive pharmaceutical products, mainly of the COVID-19 vaccines.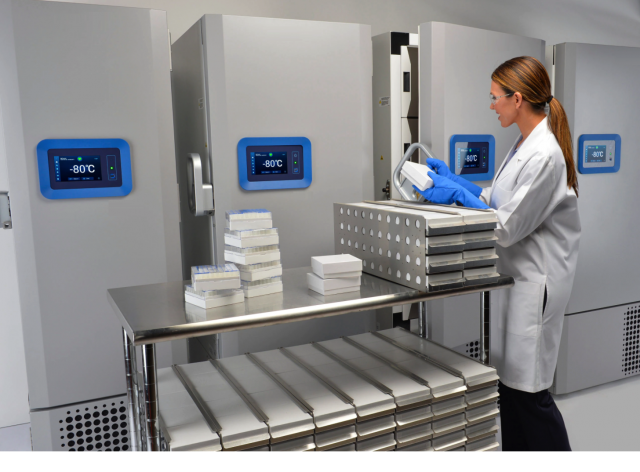 What is the main problem here?
Since the year 2020, the cold chain is facing new challenges with humanity fighting the COVID-19 pandemic. Some vaccines require ultra-low temperatures for long-term storage in quantities exceeding available capacities. Large storage facilities and distribution hubs are the pivots of the newly built vaccine supply chain. News of large storage facilities being equipped with upright freezers quickly spread in the second half of 2020 and unfortunately are still the case even in the second half of 2021. Such freezers usually work with cascade or dual refrigeration systems. The dual system using environmentally friendly refrigerants such as HC R-170 (Ethane) or R-290 (Propane) is without any doubt considered a good option. But not in extreme quantities when even a small refrigerant charge multiplied by 1000 results in large amounts. Not to mention freezers using HFCs, usually R-508 B with GWP100 = 13396. Each freezer is a single unit and cannot be treated any differently. In addition, upright freezers are not ideal for product turnover, resulting in slow loading and unloading times, which reduces the already poor energy efficiency even further.
How can it be solved?
One could argue that the demand for upright freezers was necessary because building the Ultra-Low Temperature large storage facility takes time. Upright freezers are off-the-shelf products available immediately. This was the case in 2020, but since then the ULT market progressed a great deal and other off-the-shelf products became available. One of these would be container-type solutions by Teledoor or KTI. A fully sustainable semi-trailer solution is also in the works. Large storage facilities were already built, commissioned, and are running successfully. The most recent example is Recipharm . Projects like this come with many benefits such as tailor-made design, pre-chambers, air as a refrigerant (0 GWP), active humidity extraction from the chamber, low service requirements, high energy efficiency, and much more.
Conclusion
ULT upright freezers are a great device for laboratories, hospitals, and to store small amounts of content. Using these devices for large storage scaled by hundreds of thousands is simply unreasonable. Fighting the global pandemic is undoubtedly priority number one, but we cannot allow this to ruin the move towards carbon neutrality. Suitable solutions are already available and ready to change the ULT market for the better. We at Mirai Intex believe the air cycle to be the ideal refrigeration solution for ultra-low temperatures. MIRAI Cold machines are using the Air cycle technology to deliver temperatures from -40 °C down to -130 °C for your applications. It is the technology of the future you can use today.
Let's stop doing what is convenient and start doing what is right.
Stay connected with us and be the first to read all our news!