Back to all articles
Chillventa 2022, in German Nürnberg from 11th to 13th of October.
September 15, 2022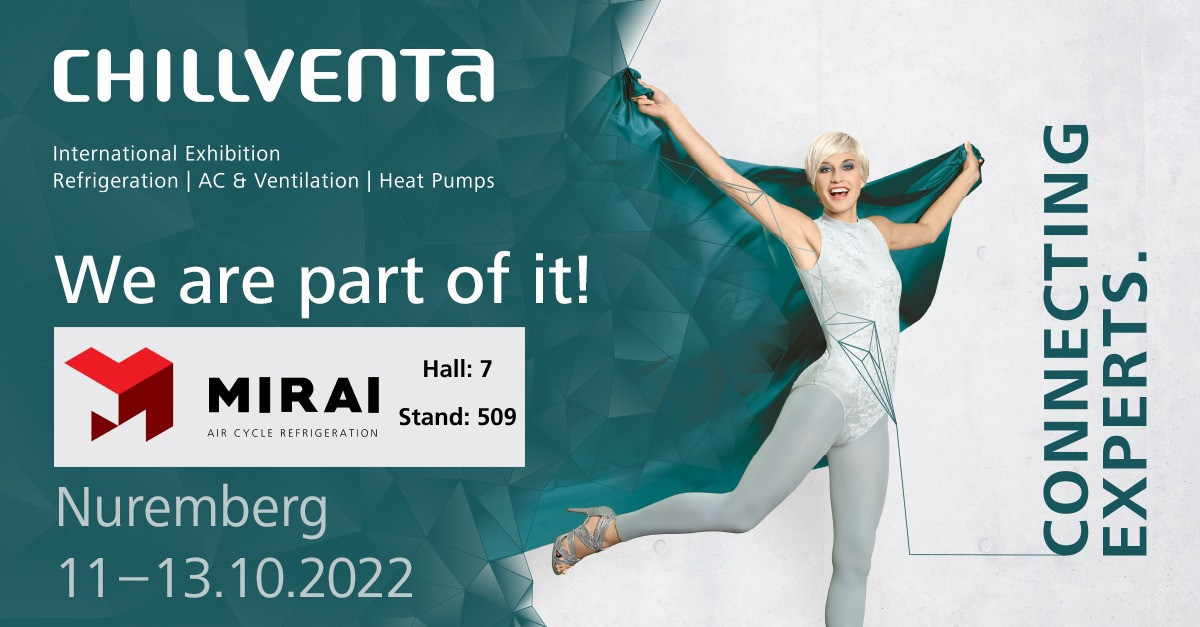 Mirai is returning to the biggest refrigeration show in the world, Chillventa 2022, in German Nürnberg from 11th to 13th of October.
Chillventa is the biggest and one of the most important exhibitions in the HVAC and refrigeration market that always gathers experts, manufacturers and innovators from around the globe.
At Chillventa Mirai Intex will present Mirai Cold machine for process cooling applications MIRAI Cold 15 T.
MIRAI Cold's refrigeration machines use ONLY air as the refrigerant and are completely oil free. Come with frequency inverters as standard and are very efficient at part load in ultra-low temperature refrigeration with efficiency and sustainability in mind.
Applications of MIRAI Cold:
Cold rooms (Biomedical, Food storage)
Cryotherapy
Blast Freezing
Lyophilization
Freeze-drying
Solvent recovery etc.
WHAT BENEFITS MIRAI COLD MACHINIES HAVE?
Flexibility – any temperature from –40 to –130
High energy efficiency
Safety and reliability – Air as refrigerant and oil free system
High temperature accuracy
Low noise and no vibration
Visit our stand and learn more about the future of Ultra-low temperature refrigeration, the technology which is most environmentally friendly and efficient!

NOTE THIS INFORMATION:

Nurnberg, 11-13 of October, Hall 7.0, Stand 509!
Stay connected with us and be the first to read all our news!