Back to all articles
Refolution Industriekälte GmbH REPORT – the analysis and comparison of existing technologies for ULT applications
August 31, 2021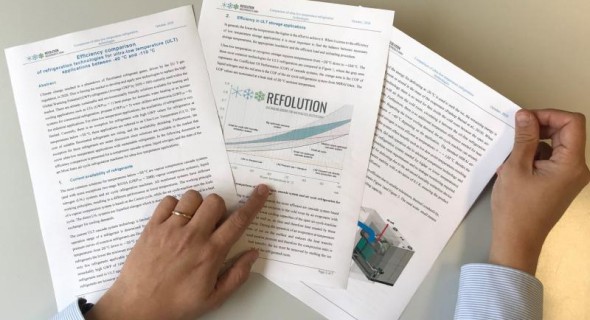 EU F-gas regulations force to reduce the use of fluorinated refrigerants, as climate changes are more and more visible day by day. New refrigerants have to be developed and replace the existing ones with high global warming potential (GWP).
According to an independent study conducted by a German engineering firm Refolution Industriekälte GmbH, analysis and comparison of existing technologies applied in ultra-low temperatures from -40 to -110 were carried out.
Environmentally-friendly solutions for heating systems already exist, for ultra-low temperature applications, the availability of refrigerants is very limited.
Suitable fluorinated refrigerants are becoming more and more expensive, availability in its turn decreases. The developers are frantically searching for new alternatives that would satisfy all the requirements of both the European Commission and the customer. 3 effective options for ultra-low temperatures are relevant for now: compressor cascade system, liquid nitrogen, and air cycle refrigeration machines for ultra-low temperature applications developed by Mirai Intex. Performing principles are totally different and show results are different as well.
Cascade systems are quite efficient operating close to ambient temperature. Although they have a loss of cooling effect due to the evaporator with fans and defroster heater. So much less cooling capacity of the open-air cycle machine is required since no evaporator and fans are needed, and heat generated by these components does not consume any cooling capacity.
In all the same cascade systems, operating at temperatures below 0 ° C, moisture accumulates on the surface in the form of ice and this way heat transfer is reduced. Additional energy is required due to the reduced suction pressure as a result- the compression ratio is increased. At a critical point for heat transfer, the ice must be removed by melting the ice with thermal energy. 30% of energy- is used for defrosting at -20C, the rest is used for the cold room. MIRAI Intex air cycle technology does not require fans inside the cold room. Air is circulating between the oil-free refrigeration machine and the cold room itself. There is no need for additional temperature differences to transfer heat in the heat exchanger.
Low dew point temperatures result in less ice on refrigerated products, fail-safe operation due to advanced compressor technology, and temperature flexibility (no additional refrigeration required for higher or lower temperatures). The humidity extraction device does not allow the occurrence of such a problem as frozen ice accumulation, eliminating, in its turn, the problem with defrosting. Temperature stability with a deviation only of 0.5 K, ensures that the product does not exceed its temperature specifications.
It's always a challenge to reach lower temperatures. In fact, the balance between necessary process temperature and heat recovery systems is important.
The whole difficulty in finding the optimal refrigerant was that a suitable refrigerant for temperature starting from -50 had a high GWP, for example, R23 (GWP-14900), R469A (GWP- 1357), or natural refrigerants methane, ethane, and ethylene, that are either flammable or have a challenging temperature glide. The optimal and the best solution was found – to use Air as a refrigerant.
There are some general parameters, that facilitate the comparison of 3 existing and the most used systems nowadays:
Reliability
Air bearings compressor in air cycle units can't be worn on during operation, due to the lack of contact pairs.
In the system with liquid nitrogen there are no rotating parts, nevertheless, from time to time high-thermal stress is observed.
While operating, a vapor compressor can be worn out. Liquid refrigerants or failure of oil management can cause significant damages.
Safety / Machinery room
Mirai Intex system is safe by itself- no extra safety steps are required. The system operates at low pressure, moreover, there are no vibrations.
Liquid nitrogen and vapor systems require to have gas sensors and ventilation so that dangerous refrigerant leakage could be on time detected. In the vapor compression system, the vibration-damping floor is also considered a significant drawback.
Future proof
Air cycle technology implies permanent access to natural refrigerants without any other service fluids and substances.
For a vapor compression system, it is critical to utilize certain synthetic refrigerants. Using LN storage and transport instructions must strictly adhere.
Maintenance
Only air filter change of the electrical box is needed in the Mirai unit.
LN systems need a periodical refill of LN2-tank, control of valve function, and safety valve (every 5 years) is essential.
Vapor compressor depends on oil and refrigerant management, safety valves check. No checks can be done without specifically trained personnel. Leakage control is obligatory.
Part load
The operation of Mirai machines is connected with speed-controlled compressors. The MIRAI air cycle units can operate efficiently at any temperature and can adapt to changing process parameters with more efficient partial load operation than conventional compression systems due to a single variable speed compressor. This is very convenient for processes with rapidly changing cooling loads over time. LN systems are based on dosage which is also relevant as a positive point.
The vapor compressor system depends on the control strategy – most of the time on start/ stop or hot gas bypass. Such systems are designed to operate within a specific operating range and are optimized for those specific conditions within the operating range and therefore are not flexible and have ineffective partial load behavior.
Lifecycle cost
Cost efficiency is a key point: Mirai Intex machines are extremely reliable, since there is no need to buy refrigerant and use oil - maintenance costs are significantly reduced.
LN and Vapor compressor machines have to make permanent leak checks, intensive maintenance is a must. High operating costs in the long term are considered also a great disadvantage. Liquid nitrogen has to be transported to the site.
Investment
LN machines have mostly rental models for tanks.
In a vapor compressor system standard components are used but from 2 to 3 stages of equipment. Air cycle machines are the latest technology with one and only initial investment and fixed price for every temperature range (from – 40 to -110).
Air cycle machine commissioning is simple due to its plug & play design and is suitable for retrofitting existing systems to replace high GWP refrigerants.
With many benefits of air cooling, such as future-proofing, long-life cycle, reliability, safety for people and the environment, and many more, it can be seen that even when it comes to efficiency at full load, it can already be competitive below -40 ° C for storage and below -60 ° C for process cooling. In the temperature range below -80 ° C, it's unbeatable.
The new generation of air-cooling systems from Mirai Intex is the most sustainable and safest solution there is. It is incredibly rewarding when more and more people approve, join, and choose the right values, supporting the global idea for environmental conservation and protection. Together we are stronger and more affluential - let's save our planet together.
Stay connected with us and be the first to read all our news!